Chelle Ellis
Moosh Print Studio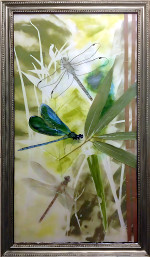 Dragonflies
Mixed Media
Iris, Don't be Blue
Mixed Media
A painter, printmaker, clay & metal sculptor, working in North Mississippi and Memphis, Tennessee. I create monoprints and mixed media paintings, with found objects, paper, clay or metal sculptures added into the work. I paint primarily in acrylic on handmade paper, canvas and wood, focusing on simplified, repeated shapes. I'm also a small metalsmith, so at times I make jewelry.

You may notice quite a few pieces with a little black and white dog or ginkgo leaves. That's because my Pekingese, Moosh, is my muse since I got her in 2011.. and she has a ginkgo leaf shape on her head.

Ocasionally, I work as an art instructor, as time and energy allow. I have taught or assisted in teaching classes in printmaking, mixed media painting and metal-smithing.

Photos and inventory of my pieces can be viewed from this website by clicking the "art" tab on the left. I am not the most productive artist in the world, but tend to create a half dozen pieces in spurts, when the notion hits me.

Currently, I am creating lamps and lighting made with a marriage of antique parts, that I call "Frankenlamps". You can see some of my progress on my separate website for those works at frankenlamps.com.

World-Famous Hot Tamale Festival Pop-Up Show
October 19 - October 21, 2023
Indigo Gallery, Greenville, MS

Memphis/Germantown Art League Online Member Showcase & Sale
August 1, 2023 - August 31, 2023
WKNO Gallery 1091 (Virtual Exhibit)

CHOICE Presented by NASTY WOMEN Memphis
October 7 - October 21, 2022, Marshall Arts, Memphis, TN
Benefitting Planned Parenthood of Tennessee & North Mississippi.